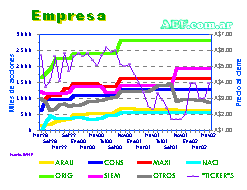 Cartera en miles de acciones en los principales Fondos de Pensión desde Set'98 a la fecha indicada. Se indica el precio de valuación al fin del mes en pesos. Los Fondos pueden haber recibido dividendos en efectivo o en acciones por las tenencias, las que no aumentan la posición o precios anteriores.

Click en el gráfico para ver un ejemplo
Portfolio (thousand Shares) held by major Pension Funds from Set'98 up to specified date. It includes book price per Share at end of each month in pesos. Funds may have received cash dividends or splits by its holdings, which do not affect previous showed tenencies or prices.

Click on chart to see a sample.